This Girl's Prom Entrance to Beyoncé's 'Formation' Is the Best Thing You'll Watch Today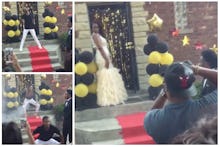 After this, he might even put a ring on it. 
On Tuesday, Facebook user Jay Scott posted a 3-minute video of a girl who orchestrated a dance to Beyoncé's woke anthem "Formation" before she meets her prom date. 
The video has since gotten over 75,000 shares and 5 million views.
The performance starts off with a person in a black T-shirt, white pants and a black hat emerging from the door, head-bopping to the song's pulsing beat. Then, he slays. 
After his moves during the first verse, a second dancer joins him on stage — well, on stoop. 
Finally, the prom date emerges in a Beyhive-inspired yellow dress and poses for pictures while her family and friends whoop and holler from the crowd. 
And on this day, she truly slayed. 
BTW, shoutout to her date who stood there for 3 minutes as the dance routine went down. Watch the whole video below: