This Plane Just Crossed the Atlantic Ocean on Solar Energy Alone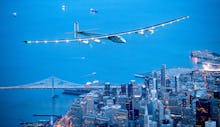 After its inaugural journey from Hawaii to Silicon Valley in April, a plane that runs solely on solar energy just successfully landed in Seville, Spain, completing its first-ever trans-Atlantic flight. 
The plane, Solar Impulse 2, left New York City's John F. Kennedy International Airport on Monday around 2:30 a.m. Eastern and touched down in Seville at about 7:30 a.m. local time on Thursday, according to the Huffington Post, about 71 hours later.
Though it may not be the speediest mode of travel — the plane moves at a speed of just 43 miles per hour — one of Solar Impulse 2's pilots, Bertrand Piccard, has expressed excitement over what his latest historic flight means for the future of clean energy.
"The Atlantic has always been this symbol of going from the Old World to the New," Piccard told the crowd gathered at Seville's airport, according to the BBC. 
"Everybody has tried to cross the Atlantic, with sailboats, steamboats, airships, aeroplanes, even rowing boats and kitesurfs," Piccard continued. "Today, it's a solar-powered aeroplane for the first time ever, flying electric with no fuel and no pollution."
The next leg of Piccard and fellow pilot Andre Borschberg's journey will venture across the Mediterranean to Abu Dhabi.
"The adventure continues," Piccard told a news conference following his April flight, the Los Angeles Times reported. "The story is not finished."
Read more: