#IfImOnTheWatchList Hashtag Perfectly Explains How Racist the No-Fly List Is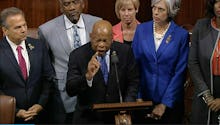 On Wednesday afternoon, House Democrats staged a sit-in to demand a vote on the Terrorist Firearms Prevention Act — commonly known as the "no fly, no buy" bill — that would ban people on terrorism watch lists from purchasing firearms. The sit-in, led by civil rights icon John Lewis, was staged to protest congressional Republicans' inaction on gun control after the devastating mass shooting at a gay nightclub in Orlando, Florida. 
But critics have slammed the FBI's watch list as racist and xenophobic, and suggested the Democrats' support of the bill is an ineffective way to fight for gun control. Twitter users have spoken out about the proposed legislation with the trending hashtag #IfImOnTheWatchList, pointing out the innocuous reasons they might end up on the list:
Some said they'd end up on the list because of where they've traveled:
Others had more humorous explanations:
One user described the effect of being on the list:
While some commend Democrats for taking action against gun violence, the "no fly, no buy" bill may not do much to end mass shootings. The San Bernardino shooters weren't on the FBI's watch list. Neither was Jared Loughner — who shot Rep. Gabrielle Giffords in Tucson, Arizona — or Newton, Connecticut, shooter Adam Lanza. Dylann Roof, who is accused of killing nine African-Americans in a church in Charleston, South Carolina, was also never on a terrorism watch list. 
Terrorism watch lists have historically targeted communities of color. Muhammad Ali, Malcolm X and Martin Luther King Jr. were all under surveillance by the FBI. According to an Associated Press story from 2014, more than 1.5 million names had been added to the terrorism watch list over the previous five years. The city with the second most names on the watch list is Dearborn, Michigan, which has one of the largest Muslim communities in the United States.
Read more: