Dos Equis' 'Most Interesting Man In The World' Has a Most Interesting Link to 'Star Trek'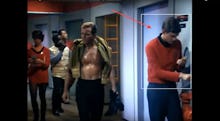 The man you know as Dos Equis' "Most Interesting Man In The World" has a pretty interesting past. 
Actor Jonathan Goldsmith appeared in the second episode of the original Star Trek series, Gizmodo reported. The episode is titled "The Corbomite Maneuver," and Goldsmith appears as a Red Shirt. But luckily, he survives the whole episode. 
Guess he's always been exceptional. Red shirts are notoriously expendable characters from the beloved 1960s TV series.
You can see Goldsmith right next to a shirtless Captain Kirk in the video below.
Memory Alpha, an encyclopedia of Star Trek, confirms that Goldsmith played an uncredited crewman in the episode. 
Goldsmith's no one-show pony; he's had many a role in Hollywood, according to a profile from NPR. He acted in westerns before assuming his memorable role as the "Most Interesting Man In the World." Before he started his acting career, Goldsmith was a garbage truck driver in Los Angeles.
As of May 2016, Goldman has been replaced with a new "Most Interesting Man In The World." To send him out in style, his last Dos Equis ad spot depicts Goldman going on a one-way mission to Mars. A homage to his humble Trekkie roots? 
"His only regret," the voiceover in the ad spot says, "is not knowing what regret feels like."
Read more: