Supreme Court Blocks Obama's Immigration Policy, Putting Millions at Risk of Deportation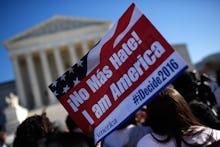 The Supreme Court blocked President Barack Obama's deferred deportation policy Thursday, upholding a lower court ruling in a 4-4 tie.
The ruling in United States v. Texas effectively blocks the Obama administration from deferring the deportation of 4 million immigrants who either entered the country illegally or overstayed visas.
Obama skirted Congress to make a rule saying that if immigrants who were in the U.S. illegally met two requirements, they could stay and work in the country for three-year increments. Those requirements stated that those immigrants must have been in the U.S. since January 2010, and have children who are U.S. citizens or legal permanent residents.
But Texas said the policy would impose costs on the state, including providing health care, increased need for law enforcement officers and education costs. And they charge that the Obama administration overstepped constitutional boundaries by creating the policy without congressional action.
The decision is likely to become a major issue in the 2016 presidential contest.
Presumptive Republican nominee Donald Trump has vowed to deport the millions of immigrants in the country illegally, as well as build a wall between the country's border with Mexico to prevent more undocumented immigrants from entering. He's likely to point to this ruling as a win.
Presumptive Democratic nominee Hillary Clinton, on the other hand, pointed to the tie on the court as proof of the stakes in the election.
The 4-4 tie was thanks to conservative justice Antonin Scalia's death earlier this year. And Democrats say if they win the White House, they could appoint a justice who would tilt the court in their favor in issues such as immigration.
"In addition to throwing millions of families across our country into a state of uncertainty, this decision reminds us how much damage Senate Republicans are doing by refusing to consider President Obama's nominee to fill the vacancy on the Supreme Court," Clinton wrote in a statement following the decision.
"This decision is also a stark reminder of the harm Donald Trump would do to our families, our communities, and our country," Clinton continued.
Republicans, including House Speaker Paul Ryan, touted the ruling as a win.
This is a developing story and will be updated.
Read more: