Emma Watson and Serena Williams Star In Inspiring "Together Women Can" Campaign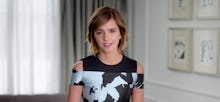 On Thursday, Facebook COO and Lean In founder Sheryl Sandberg launched a new campaign aimed at inspiring women to support each other in the workplace. The campaign is called "Together Women Can," and a promotional video features such badass ladies as Kerry Washington, Serena Williams, Emma Watson, Eva Longoria and Selena Gomez, to name a few. 
In the clip, the women name an inspirational colleague or mentor who helped their careers. They then go on to debunk the idea that women serve as rivals in the workplace, rather than allies. 
"The idea that another woman is in some way taking what belonged to you, that whole idea is kind of shifting," Lena Dunham says.
Women still face all kinds of professional barriers in the workplace. Aside from widespread sexism and gender discrimination, the sense of isolation that comes from being one of the few women in the workplace can discourage women from challenging professional expectations. And while women can benefit enormously from mentorship, a 1991 study published by the Academy of Management Journal revealed women generally have a harder time finding professional mentors than their male peers. 
As part of the campaign, Lean In has published a series of tips for being a great mentor, protege and workplace ally. 
"There's a misconception that you need to be old to mentor," Lean In president Rachel Thomas said in a phone interview. "Peers can be great role models as well." 
Thomas believes that support from female coworkers is the most pragmatic way to overcome sexism. "There's pushback when women promote themselves and toot their own horn," Thomas said. "But women can celebrate each other and introduce each other with gravitas."
Read more: