The Supreme Court Just Saved Affirmative Action in a Landmark Case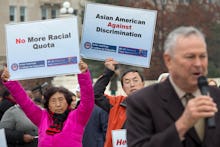 The Supreme Court dealt proponents of affirmative action a major win on Thursday, ruling that the University of Texas can legally look at race when determining admittance.
The 4-3 ruling in Fisher v. University of Texas held that looking at race is legal under the Equal Protection Clause of the constitution.
Justice Elena Kagan, appointed to the court by President Barack Obama in 2010, recused herself from the case because she had worked on it in her previous role as solicitor general in the Obama administration.
Many supporters of affirmative action were surprised by the ruling, as the case had come before the court once before in 2013. That year, the court sent the case back to a lower court for further review, before hearing it again this term.
It was filed by Abigail Fisher, a white student who claimed she was qualified for admittance to the University of Texas at Austin, but was was denied admission because of her race.
UT admits a large portion of its students by accepting those who graduated in the top 10% of their class — a threshold Fisher did not meet.
But the university then takes race into account when determining how to fill the rest of the spots. Fisher argued the top 10% rule did enough to create diversity at the school, and looking at race for the other slots was unconstitutional.
But the Supreme Court ruled that UT was within bounds to deny Fisher admission.
Groups like the NAACP said that if the court eliminated affirmative action "would set in concrete a caste system in which black and Latino UT students likely would be the products of underfunded and underperforming Texas high schools, while white UT students would likely be derived from better funded and better performing high schools."
Read more: