Supreme Court Strikes Down Texas Abortion Restrictions in Major Win for Abortion Rights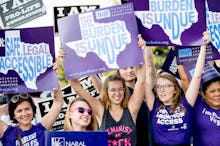 The Supreme Court ruled in favor of abortion rights groups Monday, striking down a Texas law that imposed restrictions on abortion providers in the state which forced the vast majority of clinics to close.
The 5-3 ruling in Whole Woman's Health v. Hellerstedt is a major win for abortion rights.
It struck down a Texas law, called HB2, saying it placed an "undue burden" on women seeking abortions in the state.
HB2 created stricter standards both for doctors performing the procedure and the clinics that offer abortions, and was projected to ultimately shutter three-quarters of the state's abortion clinics.
Abortion rights groups said the law was specifically written to shutter clinics and thwart women's access to obtain legal abortions, a right granted by the landmark Roe v. Wade case.
The state's Department of Health, led by Dr. John Hellerstedt, argued the law was intended to protect the safety of women seeking abortions.
But in a scathing opinion, Justice Stephen Breyer wrote that Texas provided no evidence that the law "would have helped even one woman obtain better treatment."
Abortion rights groups hailed the decision as a win for women.
"Today's landmark Supreme Court decision is a victory for women everywhere, reaffirming our right to make our own reproductive health care decisions no matter where we live," Stephanie Schriock, president of EMILY's List — a group that backs women candidates for elected office who support abortion rights — said in an email. "Extremist Republicans like Donald Trump should take note. Women are paying attention and you'll be hearing our voices loud and clear come November."
Presumptive Democratic presidential nominee Hillary Clinton also praised the ruling in a series of tweets:
However, Clinton added that despite the ruling, "the fight isn't over" for reproductive rights.
"The next president has to protect women's health," Clinton tweeted. "Women won't be 'punished' for exercising their basic rights."
Read more:
Correction: June 27, 2016