Sit-In Snacks Include Dunkin' Donuts From Elizabeth Warren, Pizza From Sandy Hook Mom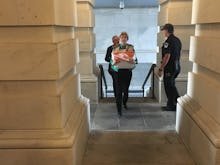 If the occupation of the floor of the House of Representatives by Democrats has showed the world anything, it's that peaceful protests are best fueled by food. Indulgent food. Namely goodies like Dunkin' Donuts, pizza and Pop-Tarts. 
Democratic members of Congress started the sit-in protest Wednesday morning to demand a vote on gun reform laws. The sit-in is still on nearly a full 24 hours later, and supporters have been sending snacks to the politicians to keep them going.
Massachusetts-native Senator Elizabeth Warren brought sustenance in the form of one of her home state's most well known delicacies: boxes of Dunkin' Donuts, the Boston Globe reported. Upon entering the room, Warren apparently "received cheers and applause." 
The protesting Democrats also received a glut of pizza deliveries. Nelba Marquez-Greene, whose 6-year-old daughter was shot and killed in the massacre at Sandy Hook Elementary School three years ago sent pizzas with a note that said, "LOVE WINS!!!," noted the Hartford Courant. An annonymous citizen in California also paid $344 dollars to have nearly a dozen Domino's pizzas delivered to the politicians (by one very jazzed woman), the Huffington Post reported. 
There were other members who sent in food, too, noted NBC News. Senator Richard Blumenthal sent a large variety box of Newman's Own candy. Mazie Hirono, a senator from Hawaii, sent in several boxes of classically Hawaiian snacks, including macadamia nuts (protestors do need protein, after all). Ohio senator Sherrod Brown also contributed to the munchies pile with many, many boxes of Pop-Tarts. He attached a note that read, "Make Good, Necessary Trouble." 
So far, Republicans have dismissed the sit-in, meaning that the protest could continue for a while. For some real sustenance, someone should send the patient politicians a couple of Outback Steakhouse's loaded Bloomin' Onions. Just one of the dish has more calories than most people need in a day — meaning it could fuel a lot of protesting.
Read more: