GOP Rep. Louie Gohmert Screams "Radical Islam!" at Democrats During Congressional Sit-In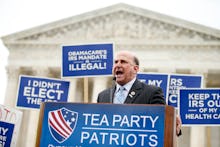 Rep. Louie Gohmert (R-Texas) perfectly captured the insanity of America's gun control debate Wednesday when he disrupted a sit-in at the U.S. House of Representatives by screaming, "Radical Islam!" at protesters.
"Radical Islam killed these people!" Gohmert yelled, interrupting a speech by Rep. Brad Sherman (D-Calif.). "Radical Islam!"
Gohmert was referencing the mass shooting that left 50 people dead at a gay nightclub in Orlando, Florida, on June 12, an attack that prompted a wave of proposed gun control measures in Congress.
The nightclub shooter, Omar Mateen, was Muslim, as well as a documented racist, homophobe and domestic abuser. His attack marked the 173rd mass shooting in the U.S. in 2016 alone — suggesting that perhaps easy access to guns is of more pressing concern than the shooter's religion.
House Democrats have been urging stronger gun control measures ever since, while Republicans — like Gohmert — have been blaming Muslim terrorists and blocking gun control votes in Congress.
The Democratic push to force Congress to pass gun control legislation has repeatedly been thwarted by House Republicans, who voted down four proposed measures June 15 after a 15-hour filibuster led by Sen. Chris Murphy (D-Conn.).
At least 170 Democrats have participated in the ongoing sit-in since it started shortly before noon Wednesday, according to reports. A small number remained protesting on the House floor Thursday morning.
Republicans, it's safe to say, are not happy about the protest.
Exhibit A: Speaker of the House Paul Ryan (R-Wisc.) deriding the Democrats' efforts as a "publicity stunt."
Exhibit B: The full video below of Rep. Gohmert screaming at Sherman.
The irony is that Democrats are fighting to pass a law that's been criticized as racist and ineffectual.
They essentially want to make it illegal for people to buy guns if they are on the federal government's terrorist watch-list — a list on which nearly half the people have "no recognized terrorist group affiliation," according to the Intercept, and that unfairly targets Arab-Americans for inclusion.
In related news: everything is a mess.
Read more: