Community Protests After Madison Police Beat and Fire Stun Gun at 18-Year-Old Black Girl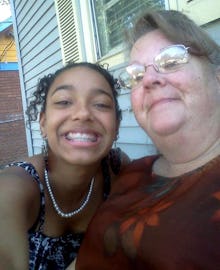 In a time when police brutality is reaching epidemic levels, some Madison, Wisconsin residents have begun protesting the arrest of Genele Laird, an 18-year-old black girl with no criminal record, who is currently in custody at the Dane County Jail. A recording of her Tuesday arrest has gone viral due to the police officers' violent behavior, in which they fire a stun gun at Laird and roughly throw her onto the ground at the city's East Towne Mall.
In the video, Laird is kicked, punched and kneed until she is on the ground. Officers also fired a stun gun at her legs and put a "spit hood" on her head after she spit at an officer. "I can't breathe," Laird said multiple times during the arrest, which was for threatening a mall employee who allegedly stole her phone with a knife. 
The protesters, who held up a sign that read "Hands off black women," say they will continue until Laird receives justice for the brutality she endured.
"I just want to say Genele is a good child, a good young lady," Laird's aunt said, according to WKOW. "She's a loving person. She loves animals. She's assistant manager for her store. She doesn't have any record. What happened to her was unfair.  She didn't deserve this. No one deserves this, what happened to her." 
Laird's family want her tentative charges — which are disorderly conduct while armed, discharging of bodily fluids, resisting police plus causing injury and also battery to an officer — dropped and for restorative justice to be taken. 
"Based upon what I saw, that was a lot of trauma," one protestor named Corinda Rainey-Moore said, according to NBC15. "I was traumatized by what happened to her, and [Genele] experienced it, so I can only imagine what [she's feeling]."
Read more: