Kendall Jenner Goes Full Bellatrix Lestrange for New Marc Jacobs Campaign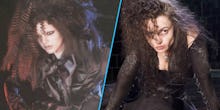 Kendall Jenner went full Harry Potter for Marc Jacobs' newest campaign, donning layers of black satin and tulle over towering platform boots in shots for the designer's Fall 2016 campaign. While the look jells with the season's luxe-punk vibe, it was perhaps the pile of crimped hair on Jenner's head that really hammered home the resemblance: Jenner looks exactly like fictional witch Bellatrix Lestrange. 
And maybe it was that ability to mutate into an easily identifiable villain that marked her as right for the ensemble in the first place:
"For me, it is the ability of a model to effortlessly transform into a look and character that makes her so appealing and inspiring," read the caption on Jacobs' Instagram post, with which he introduced these latest shots to the world on Wednesday. 
Naturally, the internet noticed the dopplegänger moment. Still, though, the consensus among those commenting on Jacobs' post was that Jenner looks fierce.
This isn't the first time the pair has worked together — Jacobs and Jenner that is. The model's first show was his Fall 2014 collection, and since then, she's been a fixture on his catwalk, also appearing in his Spring '15 ads. For this campaign, shot by David Sims, it was her commitment, passion, confidence and excitement that made her a natural choice, Jacobs explained.
The eye-catching snaps are part of a series of Fall '16 ads the designer is previewing on his Instagram. In classic Marc Jacobs fashion, the designer uses a number of non-models in this campaign and LGBTQ individuals typically left out of fashion's narrative. The aim of the Fall '16 collection is, he explained with the first photo he released — of pandrogynous artist Genesis P-Orridge — is to spotlight individuals who together embody "love, honesty, integrity, courage, strength, curiosity and inspiration." The collection, he wrote, "is a reminder to question and challenge normal and to continue exploring and pushing boundaries."
As such, the ads feature musician Marilyn Manson, performance artist and "fetish high priestess" Kembra Pfahler, punk rock icon Courtney Love, Annie Clark, aka the artist St. Vincent; the first gay couple ever signed by a modeling agency, Carlos Santolalla and John Tuite, dressed in women's clothes; 66-year-old actress Sissy Spacek; and hip-hop star Missy Elliott, among others. 
The campaign tracks with those of seasons past, with Jacobs making a pointed effort to include a wide spectrum of individuals in an industry that elevates a very specific type: tall, thin, usually white. The choice to include models on the basis of substance and character shows that Jacobs understands what fashion should be about: self-expression, whoever you feel yourself to be.