Masked Man Who Took Hostages in Viernheim Cinema Shot Dead by Police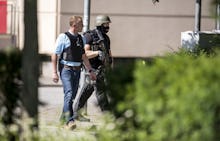 A standoff with a masked man who fired at least one gunshot at a cinema complex in Viernheim, Germany reportedly resulted in tear gas being deployed at the scene and the death of the gunman, the BBC reported.
Guri Blakaj, a 21-year-old cashier at the cinema, told NBC News that the gunman entered the cinema and instructed him and his colleagues to lie down on the floor, where he was able to push an emergency button to alert authorities to the situation. Armed police arrived and cordoned off the area, sealing the gunman inside the cinema.
"I asked him if he wanted money and he only said we should do what he says," Blakaj told NBC.
Blakaj added that the gunman, who he had initially assumed to be a man in costume, had appeared "confused" and was carrying what appeared to be a rifle. 
At a parliamentary debate after the incident had ended, local Interior Minister Peter Beuth said that the gunman had fired several times and had taken hostages before police fatally shot him.
A motive for the incident has not yet been identified by police.
This story is breaking and will be updated.