Your Uber Driver Makes a Whole Lot Less Than You're Being Led to Believe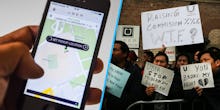 Uber talks a big game when it comes to how much its drivers make. They create video games, ad campaigns, and stalk drivers from other ride sharing services to promote a single message: Uber is a great way to make a living.
New leaked Uber data says otherwise. 
Spreadsheets of raw driver data, acquired by BuzzFeed, show that while Uber sometimes claims that its drivers make nearly six-figure salaries, many drivers actually make close to minimum wage.
BuzzFeed's calculations had to account for factors many people neglect when reporting hourly wages. Uber drivers incur expenses on top of their hourly wages: They pay for their own gas, insurance and maintenance costs, not to mention the depreciation of the vehicles they use. These expenses knock their hourly wage down by a few dollars and cost thousands of dollars a year on aggregate.
After all these expenses, the hourly wages in Houston during the examined period was $10.75. In Denver, the healthiest market BuzzFeed examined, the hourly wage ended up at $13.17, which is less than $28,000 after working 40 hours a week.
The worst city in the leaked dataset is Detroit, where drivers make approximately $8.77 in a state where the minimum wage is $8.50. Walmart pledges higher wages.
Rhetoric vs. record: No two Uber drivers are the same in the way they work and why. They drive different kinds of cars, make their own hours and often use Uber to supplement their income. Combine this with the fact that Uber keeps its driver data close to the vest, even under penalty of law, and it's difficult to transparently evaluate how much the average driver makes.
But Uber puts out its own numbers every once in a while. Two years ago, Uber said that its drivers in New York City made about $90,000 a year, while San Francisco drivers made about $74,000.
Things have gotten worse in the past few years. In the global race for car service domination, Uber has slashed prices to undercut cab companies and competing services like Lyft. How have Uber drivers responded? By holding protests in New York, blockading the roads in Brazil, and setting cars on fire in France.
Read more: