Hillary Clinton Blasts SCOTUS Immigration Ruling as Reminder of "High Stakes" of Election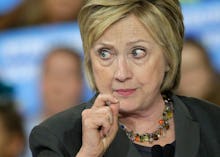 Presumptive Democratic presidential nominee Hillary Clinton issued a fiery rebuke of the Supreme Court's immigration ruling Thursday, saying the 4-4 decision to block President Barack Obama's deportation protection law "show[s] us all just how high the stakes are in this election."
Clinton blamed Republican obstructionism of confirming a replacement for the late Justice Antonin Scalia for the tie ruling.
The tie decision muddies the water for immigrants who would have been protected under Obama's deferred action program, which allowed those in the country illegally to stay and work for three-year periods if they had entered the country prior to January 2010 and had children who were in the U.S. legally.
"In addition to throwing millions of families across our country into a state of uncertainty, this decision reminds us how much damage Senate Republicans are doing by refusing to consider President Obama's nominee to fill the vacancy on the Supreme Court," Clinton wrote in a lengthy statement following the decision. "Our families and our country need and deserve a full bench, and Senate Republicans need to stop playing political games with our democracy and give Judge Merrick Garland a fair hearing and vote."
Clinton added she believes Obama had the authority to issue an executive action on immigrants, hinting that if she were elected president, she would nominate justices who would have upheld the program.
"As I have consistently said, I believe that President Obama acted well within his constitutional and legal authority," Clinton wrote. "These are our friends and family members; neighbors and classmates; DREAMers and parents of Americans and lawful permanent residents. They enrich our communities and contribute to our economy every day. We should be doing everything possible under the law to provide them relief from the specter of deportation."
She also pointed to the decision as a "stark reminder of the harm" presumptive Republican nominee Donald Trump "would do to our families, our communities and our country."
"Trump has pledged to repeal President Obama's executive actions on his first day in office. He has called Mexican immigrants 'rapists' and 'murderers.' He has called for creating a 'deportation force' to tear 11 million people away from their families and their homes. I believe we are stronger together," Clinton said, vowing to introduce comprehensive immigration reform "within my first 100 days."
Trump had yet to issue a statement on the ruling at the time of publishing. But he's likely to hail the ruling as a win for his anti-immigration stance.
Read more: