Obama Condemns SCOTUS on Immigration: "Takes Us Further from the Country We Aspire to Be"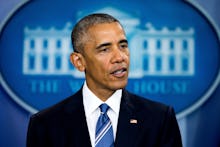 President Barack Obama forcefully condemned the tie Supreme Court ruling on Thursday effectively blocking his plan to protect millions of undocumented immigrants from deportation, calling the decision "heartbreaking" for those it puts at risk.
"The fact that the Supreme Court wasn't able to issue a decision today doesn't just set the system back further. It takes us further from the country that we aspire to be," Obama said, speaking from the James S. Brady Press Briefing Room at the White House.
The court's 4-4 tie in the case, United States v. Texas, let stand a lower court ruling preventing implementation of Obama's executive actions allowing up to 5 million undocumented immigrants to remain in the U.S., provided they have family members in the country and do not have criminal records.
"I think it is heartbreaking for the millions of immigrants who made their lives here, who raise families here and hope for the opportunity to work, pay taxes, serve in our military and more fully contribute to this country we all love in an open way," Obama said.
Obama vowed to press forward with his Deferred Action for Childhood Arrivals program, which allows those brought to the country illegally as minors to remain in the U.S. That program was not at stake in Thursday's ruling.
The president also seized on the ruling to renew his call for Senate Republicans to allow a hearing for Judge Merrick Garland, Obama's nominee to succeed the late Justice Antonin Scalia. Republicans have refused to hold a vote on Garland's nomination, arguing that the next president should be allowed to fill the vacancy.
"The court's inability to reach a decision in this case is a very clear reminder of why it is so important for the Supreme Court to have a full bench," Obama said. By refusing to take up Garland's nomination, he charged, Republicans are "allowing partisan politics to jeopardize something as fundamental as impartiality and integrity of our justice system."
The political fallout: Obama announced his immigration actions in November 2014, after Republicans took full control of Congress and it became clear that there would be no congressional action on immigration reform.
Presumptive Democratic presidential nominee Hillary Clinton, who vows to forge ahead with an immigration reform push if she succeeds Obama, blasted the court's ruling on Thursday, calling it a "stark reminder" of the stakes of the 2016 campaign.
Donald Trump, the presumptive Republican nominee, has pledged to deport all of the estimated 11 million immigrants living undocumented in the United States.
While Republicans may be cheered by the court's immigration ruling on Thursday, they're less likely to applaud the court's ruling upholding affirmative action in university admissions. Obama praised that ruling during his press conference.
"I'm pleased the Supreme Court upheld the notion that diversity is an important value in our society and that this country should provide high quality education to all young people regardless of background," he said.
However, he added, "One of the reasons why America is such a diverse nation is because we are a nation of immigrants."
Read more: