Aspirin Ad Isn't Winning Any Awards for Its Gross Sexist Message, Except — Oops — It Did!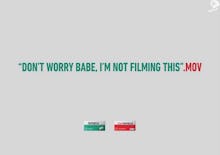 When misogyny is giving you a headache, you might want to reach for some aspirin. Too bad — misogyny ruined that too.
Brazilian advertising agency AlmapBBDO received pats on the backs from international advertising festival Cannes Lions in the international advertising conference's "indoor posters — cosmetics, toiletries, healthcare & pharmacy" category with an aspirin ad reading, "'Don't worry babe, I'm not filming this.'mov."
Dubious comma splices aside, the ad raised a few eyebrows as it seemed to suggest that a man was filming he and his partner having sex without her consent. The man, somehow, seems to be the one who needs an aspirin after his girlfriend, wife, "babe," what-have-you, finds out she's been filmed without her knowledge and yells at him (or, if you prefer, acts hysterical).
The Cut reported English advertising consultant Cindy Gallop as being among the first to call out both the brand and Cannes Lions judges for the sexist message.
"Don't use this to sell aspirin, male-dominated ad industry," Gallop tweeted, "and don't award it, male-dominated juries."
The ad firm has relied on stereotypes in the past, but some of them have been innocuous. An ad that ran in 2010 read "Boss's jokes," showing that to deal with one's boss alone requires regular strength aspirin — for their jokes, extra strength. 
AlmapBBDO, though, began to lean on tired, sexist cliches with an ad deeming an "ex-wife" is regular strength aspirin-worthy, but her lawyer: extra strength; same deal with a "teenage daughter" and a "teenager daughter's boyfriend." The speaker, it seems, is always male.
If AlmapBBDO copywriters ever try their hand at representing the headache-inducing experiences of women instead, perhaps they'll consider this: Everyday (regular strength aspirin) sexism (extra strength). 
Read more: