Kardashian-Endorsed Waist Trainer Company Reportedly Just Settled a $5 Million Lawsuit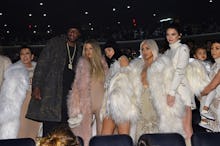 The company behind the Waist Gang Society waist trainers enthusiastically endorsed by the Kardashian Krew quietly settled a $5 million class action lawsuit, effectively stifling the voice of a customer who said the company's marketing is misleading — and allowing for the continued stifling of many more waists — the Daily Mail Online exclusively reported.
If you follow any of the Kardashians on Instagram — which you probably do — you've likely seen one of these vibrant mid-torso clinchers in (presumably paid) posts. Court documents allege the company claims the trainers "burn fat and control the user's weight," the Daily Mail Online writes. (Mic has not independently verified the details in the Daily Mail Online exclusive report.)
"This is completely false and misleading," the documents reportedly continue. "The products have absolutely no effect on fat loss of the user."
There are no confirmed details on whether Sara Hawes, the woman behind the lawsuit, or anyone else will receive compensation for the settlement, Jezebel reported Thursday.
There are also no confirmed reports on whether the Kardashian regime is planning some form of retaliation for anyone who speaks negatively about their beloved modern-day corsets.
Suffice it to say more than a few of the products endorsed on social media platforms are steaming-hot garbage — including a Kylie Jenner-approved weight loss tea, which apparently doesn't do a damn thing for legitimate weight loss.
Read more: