The New York Times Asked a Lot of White People About Their First Time at a Gay Bar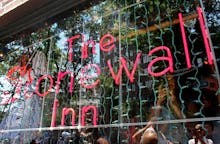 Any story about the June 12 shooting at Orlando, Florida's Pulse nightclub is incomplete if it misses two details: Pulse is a gay bar and the night of the shooting was Upscale Latin Saturday. A quick glance of the names of the 49 victims shows that a clear majority were Latino, many of them Puerto Rican. 
In response to the shooting, many outlets, Mic included, have run stories about the importance of queer spaces like Pulse in LGBT culture. Today, the New York Times ran a story featuring 25 celebrities sharing stories of their first time visiting a gay bar. Of the 25 people featured, only two — novelist Justin Torres and fashion designer Humberto Leon — are Latino. 
The sentiment behind the piece is understandable: Every LGBT person has a story about their first gay bar, and these stories highlight the importance of queer spaces in these individuals' development. But centering the narratives of white members of the LGBT community and only including two Latinos for a walk down memory lane is an act of erasure.  
The Pulse nightclub massacre was an attack on the LGBT and Latino communities, but the Times piece, like a lot of media coverage following the shooting, focuses primarily on the former. 
The paper similarly treated the LGBT and Latino communities as mutually exclusive on June 13, when it ran an article saying the two groups have historically been "at odds." To frame the story in such a way rather than acknowledge that this tragedy affected both communities at once, is to miss the intersectional nature of the tragedy. It does a disservice to those affected. 
This whitewashing is no different than filmmaker Roland Emmerich calling the Stonewall riots a "white event" when in fact two of the riots' heroes were people of color — drag queen Marsha P. Johnson and transgender Latina Sylvia Rivera. 
Plenty of queer Latino celebrities could have contributed their memories of growing up LGBT and Latino to this piece. Did the Times call singer Ricky Martin? Did they call actor Wilson Cruz? Or actor Guillermo Diaz? Or HIV-positive fashion designer Mondo Guerra? Or author Francis Negron? Or head of Puerto Rico's Supreme Court Maite Oronoz Rodriguez? 
Yes, Andy Cohen, Larry Kramer and Jane Lynch's stories about their first times at a gay bar are valid and deserve to be shared. But, is now the time to hand the microphone to the white members of our community when it's our Latino brothers and sisters who died? Does Andy Cohen's sneaking away to Chaps teach us about the struggles of young, gay Latinos living in Orlando? 
Now is not the time to hear from white LGBT folk. Right now, the world needs the voices of queer Latinos. Please listen. 
Read more: