McDonald's Big Mac Sauce Finally Gets the Sriracha Treatment It Deserves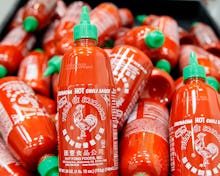 Ring the alarm — McDonald's has a brand new version of its famed Big Mac sauce and surprise, surprise, it's made with Sriracha. 
Yes, McDonald's has at last hopped on the Sriracha bandwagon, Brand Eating reported. Unfortunately for fans of spicy-but-creamy condiments, the Sriracha Big Mac sauce is currently only available in stores in Los Angeles and San Diego. 
The sauce is featured as part of the the chain's Signature Crafted sandwich menu, which offers choices like kale and baby spinach instead of iceberg lettuce, and toppings like white cheddar cheese and crispy onions, noted Brand Eating. 
Considering the cult status of its Big Mac sauce, we're thinking McDonald's will one day sell the spicy version in stores nationwide. Some fans can't get enough of the special stuff; People have worked diligently to recreate the original recipe at home. Plus, when the chain decided to sell a handful of bottles last year in Australia, people bid upwards of $18,000 to get their hands on one. 
It's somewhat surprising that it's taken the fast food joint this long to mix Sriracha with its Big Mac sauce — other chains have been hawking foods spiked with the trendy hot sauce for a while now. In 2014, Taco Bell debuted an entire Sriracha menu and earlier this year, Jack in the Box added a late night Sriracha Curly Fry Burger meal box to its menu. 
Let's just hope McDonald's doesn't take the Sriracha trend too far and say, replace its M&M McFlurries with a hot sauce version. 
Read more: