iPhone 7 Rumors: iPhone 'Pro' Line May Be Included in 3 New iPhones in Fall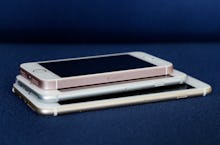 This fall, when Apple announces the expected iPhone 7, you might have more iPhones to choose from than you thought. The company may be releasing three different versions of the iPhone 7 this year, including something called the iPhone 7 Pro, 9to5Mac reported Thursday. 
Read more: Why You Should Me More Excited for the iPhone 8
The alleged leak, originally found on Chinese site Weibo, lists three new iPhones — the iPhone 7, iPhone 7 Plus and iPhone 7 Pro. If the "Pro" moniker sounds familiar, it's because Apple released a product called the iPad Pro in 2015. According to the leak, the iPhone 7 Pro would be the most expensive Apple phone available, priced at around $150 more than the iPhone 7 Plus. 
It's unclear what new features the iPhone 7 Pro would sport, but the larger iPad Pro model has slightly faster processing and better graphics than the iPad Air or iPad Mini.
Even if there are three versions of the iPhone 7, there's some evidence to support that this round of iPhones will be significantly less impressive than next year's iPhone 8. The iPhone 8 is rumored to be made completely of glass and support wireless charging.
Read more: