San Andreas Fault Movement Sparks Earthquake Fears in California, Is the "Big One" Coming?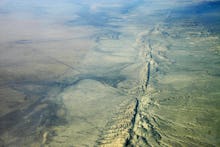 The world's most notorious fault line has massive seismic pressure just waiting to be released, new scientific evidence has confirmed. When it snaps, it could unleash a massive earthquake, possibly the long-hypothesized "Big One." The San Andreas fault sits right where the North American and Pacific Plates meet and — with curves included — it spans about 800 miles long. 
Once it ruptures, which scientists say it inevitably will, it could wreak havoc on the densely populated state of California. "Our impending catastrophe is so obvious," former United States Geological Survey seismologist Lucy Jones said earlier this week, according to the Los Angeles Daily News. 
California sits atop a sleeping giant
While the state is no stranger to earthquakes, new and first-of-their-kind images made by scientists from the University of Hawaii at Manoa reveal large portions of California that surround the San Andreas fault have actually been subtly moving up and down at the annual rate of just a few millimeters — like a wave. Most of the Los Angeles Basin, Orange County, the city of Bakersfield and San Diego County are sinking, while Santa Barbara County and San Luis Obispo County are rising. 
"When the next big earthquake strikes, the different parts of Southern California will lurch back to the same level," according to the Los Angeles Times. 
To make the images, the scientists broke down GPS data to "isolate a simple vertical motion pattern that curiously straddled the San Andreas fault," the study's lead author Sam Howell said in a statement. 
So, what's in store?
It's been about 150 years since the last significant movement for the fault's land between Monterey County and Imperial County; in the fault's other areas, stress has been building for 300 years. The last time a major earthquake shook the San Andreas fault was in 1857, and it had a 7.9 magnitude (the same level that struck and severely damaged Nepal last year). Further south on the line, the last earthquake hasn't taken place since 1690. 
However daunting, the timing of such an earthquake can't be determined yet, and is "pretty much impossible to say," Howell said, according to the Los Angeles Times. When that happens, the land around the fault will stay put and the other parts will even out.
Other studies have shown that an earthquake with a magnitude of more than 7.0 could occur from the fault's current stress levels. 
But just verifies what many Californians have already predicted. On Thursday, community members, including business owners and public policy leaders, got together in a call for action for better earthquake preparation in order to "prevent the inevitable disaster from becoming a catastrophe," according to the Los Angeles Times. The Southern California Association of Governments will be handing out information to about 191 cities on how to create a disaster plan for when the "Big One" hits. 
The recent news didn't seem to shake apparent California residents, many of whom are aware they live in earthquake territory. 
"Everyone knows the San Andreas fault will slip, it looks like it's finally happening," one Facebook user wrote. 
"Living in the Bay Area almost my whole life I know this is something we always hear but to my family and friends in the Bay ... time to take precautions seriously," another said. "Prepare."
Read more: