Chris Brown Sued for Allegedly Beating Up Manager Mike G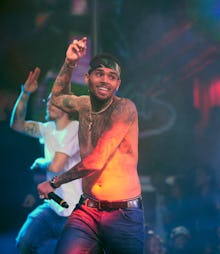 The same man that Chris Brown hired to clean up his public image after he physically assaulted Rihanna in 2009 is now pressing charges against the singer for doing the same thing to him, TMZ reports.
The plaintiff, Mike Guirguis (also known as "Mike G"), claims that Brown hired him in 2012 to help rid him of debt problems and drug addiction and to help clean up his tarnished reputation. On that front, Guirguis says, he was successful — Brown's enjoyed a tenuous shift in public opinion after a powerful performance at the BET Awards in 2010, after which the Rihanna incident seemed mostly in the past.
But, according to a copy of the lawsuit obtained by Mic, Guirguis claims that on May 10, Brown summoned him to the studio where rehearsals were taking place for his upcoming world tour. After bringing Guirguis into a back room, the lawsuit alleges, Brown said, "We're going to go for thirty seconds," and then proceed to punch him multiple times in the face and neck, landing Guirguis in the emergency room. 
The lawsuit also alleges that Brown bragged to friends and tour mates about the beatdown — threatening to "beat one female team member's ass 'like I did Mike G.'" — if they crossed him.
In an emailed statement, Patty Glaser, Guirguis' attorney, said that her client plans to add a defamation clause to the contract in response to a since-deleted Instagram on Brown's account that claimed he fired Guirguis for stealing money from him (HollywoodLife.com has it here).
"We did everything we could to resolve this in a non-public way to avoid damage to Chris Brown.  Regrettably, as outlined in our complaint, Chris Brown has proven to be his own worst enemy," Glaser said. 
"We've seen Chris Brown's Instagram post.  It's a pathetic reaction to the lawsuit.  There is no truth to his claim and Brown knows it.  We'll amend our complaint to add claims for defamation." 
Read more: