This Feminist Porn Website Helps Women Reclaim Their Bodies After Sexual Assault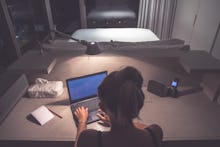 Last year, London nurse Pavan Amara, 28, launched the My Body Back Project, an organization that runs a maternity clinic for rape survivors and workshops for sexual assault survivors. But participants kept telling her they still lacked resources for one taboo aspect of recovery: masturbation.  
"Women were saying they didn't know how to explore themselves sexually on their own ... without triggering the memory of their own attack," Amara said in a phone interview.
That's why Amara created The Clit List, an online directory of ethical, feminist-friendly porn, sex toy reviews, masturbation tips and erotic reading lists, moderated by a volunteer. 
The Clit List clearly labels listings with trigger warnings, as well as detailed descriptions that let viewers know they won't be exposed to any violent or misogynistic content. 
The fact that most mainstream porn contains misogynistic themes was a common complaint among workshop participants. "What I hear again and again from women is that sex was used as a weapon against them," Amara said. "It's about taking sexuality back and making it yours again. Claiming it as a human right." 
A Marie Clarie survey of more than 3000 women in 2015 revealed that 31% of respondents watched porn at least once a week. Yet women often struggle to find content that prioritizes authentic female pleasure and doesn't leave them feeling guilty or degraded. 
"Porn's not just a man's game anymore," Ella, the moderator of the Clit List, told Vice. "A lot of women watch porn, so why aren't there more services aimed at them?" 
Ella used porn and erotic literature to help reconnect with her own body after leaving an abusive relationship, with the help of a friend who helped her find empowering examples of female pleasure. Now, The Clit List is compiling suggestions to offer the same support for women around the world. 
Because there's no singular definition of "feminist" porn, clear labels and careful moderation helps women with different kinks and tastes find the content they need. "Our users have told us that they are interested in BDSM, so we're going to look at that in the future," Ella told Vice. 
Since the Clit List launched on June 13, Amara has been flooded with emails from grateful survivors who enjoy watching porn. 
"It's not just men who are visually turned on," she said. "Society still doesn't acknowledge that women have a sex drive at all, just like men, and the same is true for women who experience sexual violence." 
Amara shared one such email from an anonymous viewer, who wrote: "What I saw [in porn] threw me back one hundred steps. A woman was tied up and being called all sorts of insults. They didn't say she was being raped but that's basically what happened to me when I was raped." 
The woman went on to describe her feelings of guilt and depression for having sexual feelings after assault. "The reason I wanted The Clit List so much is because ... I won't be scared of having a sex drive and I can be safe," she wrote. "I won't need to rely on a boyfriend eventually to sexually be in control of myself."
At the project's workshops, survivors often said they feared being victim-blamed or accused of being promiscuous if they enjoyed sex after their assault. 
"This stigma really needs to go, that you're a victim left without a personality [post-sexual assault]," Amara said. "It stops women from talking about what happened."
Now, there are around 50 workers and volunteers helping to run the My Body Back Project's programs, both in person and online, serving hundreds of women around the world. 
"A lot of our work is about giving women back autonomy over our own bodies," Amara said. "It's all about control and choice."
Read more: