Eric Casebolt, McKinney Officer Who Threw Girl on Ground at Pool Party, Won't Face Charges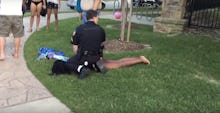 A grand jury in Texas decided Thursday not to press any charges against a white police officer recorded on video apparently roughly handling a black teenage girl at a pool party last year, according to CBS DFW.
A video of the incident posted to YouTube went viral after former McKinney, Texas, officer Eric Casebolt threw the girl to the ground, sparking immediate outrage and criticism of the police department.
In the video, the officer is seen assessing the situation of a neighborhood pool party in which a fight between a mother and daughter broke out. The girl who would eventually be tossed to the ground, her face pushed into the ground by Casebolt, can be seen asking officers to call her mother throughout the entire ordeal. 
It's unclear from the video what, if any, involvement the girl had in the fight prior to officers arriving at the scene.
But the jury decided to toss the investigation out entirely, reporting there wasn't enough evidence to press charges against Casebolt, according to CBS DFW.
The City of McKinney provided this statement on the incident, CBS DFW reported:
The McKinney Police Department's mission is to make the city a safe place to live, work and visit for everyone. In light of this, we seek to work in partnership with all who live and work in this great city. The incident at the Craig Ranch Pool in 2015 was turned over to the Texas Rangers for investigation. The Rangers concluded their investigation and presented it to the Collin County District Attorney's Office. On Thursday, June 23, the District Attorney's office presented the findings of the Rangers' investigation to a grand jury. The grand jury's decision was to "no bill" any charges against Eric Casebolt in relation to the June 2015 incident.
The officer's handling of the situation even prior to his treatment of the individual girl was called into question by those who had watched the video. Casebolt arrived to the scene sprinting, performing a barrel roll that led to nowhere. 
He then ran back toward where he originally came from, pushing young boys to the ground and screaming at some to sit on the street while handcuffing others. 
To date, the original YouTube video has been watched over 12 million times.
June 23, 2016, 4:57 p.m. Eastern: This story has been updated.