British PM David Cameron Resigns in Wake of Brexit Vote for UK to Leave European Union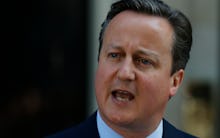 On Friday, British Prime Minister David Cameron announced his resignation following the historic results of the Brexit referendum, in which the vote for the United Kingdom to leave the European Union won by 51.9% to 48.1%, the AP reports.
"I was absolutely clear about my belief that Britain is stronger, safer and better off inside the European Union," Cameron said, addressing public and press gathered on the steps of his office at 10 Downing Street. "But the British people have made a very clear decision to take a different path, and as such I think the country requires fresh leadership to take it in this direction."
"I will do everything I can as prime minister to steady the ship over the coming weeks and months, but I do not think it will be right for me to try to be the captain who steers our country to its next destination," Cameron continued.
"There is no need for a precise time table today, but in my view we should aim to have a new prime minister in place by the start of the Conservative Party conference in October."
Cameron is leaving the negotiation of the United Kingdom's withdrawal from the European Union to his successor, BBC News reports. Under a literal interpretation of Article 50 of the Lisbon Treaty, the 261-word guide on how to leave the EU, the UK has just two years to plan its exit strategy.
According to the AP, the results of the Brexit vote come as nothing short of a humiliation for Cameron, who called for the Brexit referendum to "puncture growing support for the anti-EU UK Independence Party." 
But rather than "defusing that time bomb," as Victoria Honeyman, a lecturer in British politics, put it, Cameron's political gambit, which drew more than 30 million people to the polls on Thursday, has instead exploded it, bolstering and empowering the growing "euroskeptic" movement fomenting in the United Kingdom — and abroad — by providing it with a stunning and historic victory. 
Marine La Pen, President of France's National Front, a far-right nationalist party, tweeted on the heels of Brexit's big win to demand the same European Union-divorcing referendum for French voters.
In the wake of the Brexit results, the pound plummeted to its lowest level against the dollar since 1985, BBC News reports. The Dow Jones industrial average dipped more than 500 points when it opened Friday morning. It has modestly bounced back since.
This is a breaking news story and will be updated.
June 24, 2016, 6:45 a.m. Eastern: This story has been updated.  
Read more: