After the Brexit Vote, JK Rowling Says She's Never "Wanted Magic More"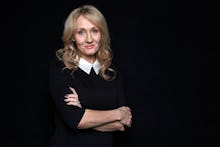 Following the news that the United Kingdom has voted to leave the European Union in a narrow result — the first country to leave the EU since it was formed in 1993 — celebrities have reacted to the shocking referendum en masse. Among them was Harry Potter author J.K. Rowling, who was in support of the U.K. staying with the EU. 
In response to the result, a Harry Potter fan tweeted at Rowling, imploring her to "do something," to which the writer conceded that she's never "wanted magic more." 
Additionally, Rowling was critical of former London mayor Boris Johnson, one of the leading figures for the Leave campaign, for suggesting that the U.K. will still be united despite the vote. 
"Always good to kick off by showing you don't understand a key issue," she wrote.
Rowling previously took aim at the Brexit vote — and specifically, the parties interested in leaving the EU — in an heartfelt essay on her website Tuesday. In the piece, she compared the narratives from the Leave campaign to the process of creating villains and monsters in fantasy novels. 
"The Leave campaign's narrative has descended to this: We are being exploited or cheated by the EU," Rowling wrote. "If we can't see that Britain will only regain superpower status if we leave the union, we must be unpatriotic, cowardly or part of a corrupt elite. ... In a few days' time, we'll have to decide which monsters we believe are real and which illusory. Everything is going to come down to whose story we like best, but at the moment we vote, we stop being readers and become authors. The ending of this story, whether happy or not, will be written by us." 
Read more: