Jay Z's 'Reasonable Doubt' Wasn't an Instant Classic 20 Years Ago — Now Everybody Loves It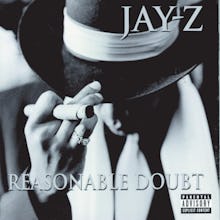 "I gave you prophecy on my first joint, and y'all lamed out
Imagine, for a second, a hip-hop without Jay Z. 
Imagine DJ Clark Kent had never managed to convince a 25-year-old Sean Carter that rap could be more than a hobby. It's almost impossible. No Roc-a-fella. No Rihanna, no Kanye West, no "Takeover." No rags to riches story to show how life-changing force hip-hop could be.
But 20 years ago Saturday when Jay Z released his debut album Reasonable Doubt, that reality seemed inevitable. "Jay Z isn't saying anything new," the Source, hip-hop's most trusted critic at the time, said of the album. "It's the same 'ol criminal melodrama that you hear on so many rap LPs these days." 
Its power wasn't as immediate as Nas' far more urgent Illmatic, or as heart-stopping Notorious B.I.G.'s as Ready to Die. Jay was cool, calm, collected. And in the summer of '96, which was dominated by landmark releases from established artists like Tupac and A Tribe Called Quest, and genre-defying freshness from up-and-coming acts like Outkast and the Fugees — it was hard for critics to realize the enormity of what they were witnessing: The rise of a man who would soon reshape hip-hop in his own image.
What was unique about Jay Z's Reasonable Doubt wasn't what he was spitting, it was how how he was spitting it.
"The studio was like a psychiatrists couch for me," Jay Z once told Rolling Stone about the album. That feeling comes across on songs like "D'Evils" and "Regrets." 
Jay Z is hardly glorifying life on the streets when he talks about his "mom's crying because her insides are dying/ Her son trying her patience, keep her heart racing," in an expert internal rhyme on "Regrets." It's reflective, removed, like someone who's thought everything over too many times to the point that it loses emotional consequence.
But what those revelations lose in feeling, they gain in rhetorical power. Jay Z's biggest talent, which he's relied on throughout his career, his ability to capture life's infinite complexities into the most stark logic possible. "9 to 5 is how you survive, I ain't trying to survive," he rapped on "D'Evils." "I'm tryna live it to the limit and love it a lot." A more clear summation of the hustler lifestyle is hard to find.
With Reasonable Doubt, Jay essentially laid every one of his cards out on the table and waited for the world to decide what to make of them.
"Basically we named the album Reasonable Doubt because with anything you do in life, people are going judge you," Jay Z said in a 1997 interview. "Whether it be through interviews or radio. So the album is basically on trial, whether you like it or you don't."
In the long run that patience paid off. It took the Source two years to update their review, pinning it with its coveted 5 mic rating, but at that point Jay Z was already well on his way to remaking the genre. It now consistently lands on all the major "Greatest Albums of All Time" lists and garners praise from today's influencers, like El-P and Pusha T. 
Today's courtside-seated, yacht-toting Jay himself lists as his best. It established himself as a man with purpose, with depth, with wicked intelligence, which showed through even when he started making poppier hits like "Hard Knock Life" and later "Big Pimpin.'" 
And really that's always been the unique strength of all hip-hop — its simultaneous ability to move booties on the dance floor while leaving the listener a mindful to think through later. Jay Z was one of the first to nail the balance and the genre is better off for it.
Read more: