Donald Trump's Brexit Reaction Missed a Big — Yuge, Even — Detail About Scotland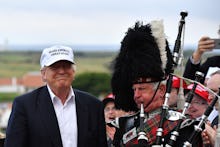 GOP presumptive nominee Donald Trump hailed Scotland for voting to leave the European Union on Friday morning after landing in the country to check on his golf resort in Turnberry.
In a tweet, Trump wrote he saw Scotland "going wild over the vote" when he landed. "They took their country back, just like we will take America back," Trump continued. "No games!" 
But here's the thing: Scotland didn't vote to exit the EU.
In fact, the country voted widely in favor of remaining by 62% to 38%, though the United Kingdom as a whole decidedly voted to leave the union.
Trump then posted a statement on Facebook regarding the decision, noting, "I hope America is watching." 
This sharply contradicts what he said just days before in an interview with Fox Business Network. "I don't think anybody should listen to me, because I haven't really focused on it very much," he said. "But my inclination would be to get out, because you know, just go it alone."
Meanwhile, Scotland's First Minister Nicola Sturgeon told an Edinburgh press conference that the decision to exit the EU means a second referendum for Scottish independence is "now on the table."
"As things stand, Scotland faces the prospect of being taken out of the EU against our will. I regard that as democratically unacceptable," Sturgeon said.
Trump will return from his one-day stint in Scotland on Saturday to continue his campaign's pivot to the general election. 
Read more: