Bernie Sanders Says He'll Vote for Clinton in the General — Then Seems to Walk it Back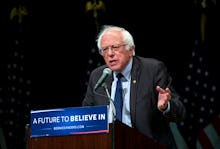 Bernie Sanders moved closer to an endorsement of Democratic primary rival Hillary Clinton on Friday, saying he would back the presumptive nominee in her likely general election face-off with presumptive Republican nominee Donald Trump.
Asked on MSNBC's Morning Joe whether he'd vote for Clinton in the fall, Sanders, who plans to remain in the Democratic race through the party convention in July, responded, "Yes."
"I think that the issue right here is I'm going to do everything I can to defeat Donald Trump," Sanders continued. "I think Trump in so many ways will be a disaster for this country if he were to be elected president. We do not need a president whose cornerstone of his campaign is bigotry."
But Sanders muddied the waters in a CNN interview Friday morning, saying that "in all likelihood" he'd back Clinton in the fall but indicating he wanted to see the party pushed in a more progressive direction.
In his MSNBC interview, Sanders reiterated his intention to stay in the race through the Philadelphia convention, saying he wanted to "fight for the strongest possible platform." Sanders delivered a speech in New York City on Thursday night outlining his priorities for the platform, including a $15 minimum wage, campaign finance reform, an end to closed primaries in which only registered party members can vote and curtailing the influence of superdelegates.
Sanders' comments Friday morning come two days after he admitted in a C-SPAN interview that it "doesn't appear" he will emerge as the nominee. Clinton clinched the nomination two weeks ago, proclaiming victory after wins in New Jersey and California.
While Sanders' likely support for Clinton in the fall comes as no surprise, political observers will be closely watching how extensively he campaigns for her. Distrustful of Clinton's more centrist record, many of Sanders' supporters remain unwilling to back her candidacy, with only 55% of his voters saying in a recent Bloomberg poll that they'd pull the lever for her in November.
Trump, whose populist stance on free trade overlaps with Sanders', has made a direct appeal to the Vermont senator's supporters, inviting them in a Wednesday speech to "join our movement, so together we can fix the system for all Americans."
10:56 a.m. Eastern: This story has been updated.
Read more: