Bernie Sanders Explains to Stephen Colbert Why He's Still Staying in the Presidential Race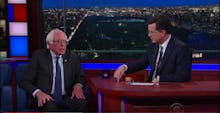 Despite all but admitting defeat on Wednesday and conceding he likely won't be the Democratic presidential nominee, Bernie Sanders wasn't ready to formally throw in the towel during his appearance on The Late Show With Stephen Colbert Thursday. Instead, he told Stephen Colbert that he's going to do whatever it takes to stop Donald Trump from becoming the commander in chief. 
"What we're doing now is marshalling our resources to make sure that A) we defeat Donald Trump, and we defeat him badly," Sanders said. "And B) most importantly — look, campaigns are about winning and losing nominations, but what's more important is the need to transform America. And to do that, what I've said from day one is we need a political revolution." 
Now, there is an obvious juxtaposition with wanting to stop a Trump presidency, while also stopping short of a formal endorsement for Democratic frontrunner Hillary Clinton — though it is a promising sign that he's said he'll vote for her in November.  Sanders also explained how he's working alongside the Clinton campaign.
However, Colbert noted that, by not formally endorsing Clinton, he could risk some of his supporters moving toward Trump instead (currently, nearly half of his voter base wouldn't vote for Clinton). But Sanders has faith that his supporters won't be appealed by Trump's oft-controversial platform and rhetoric. 
"My supporters are smart enough to know that we do not want a bigot to become president of the United States," he said. 
You can check out the segment on Sanders' candidacy from The Late Show below: 
Read more: