Your Complete Guide to New York City Pride Weekend 2016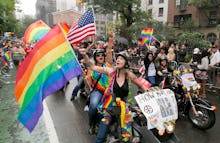 New York City's annual Pride March begins this weekend, along with a three-day slate of events and activities geared toward the LGBTQ community. Here are just some of the options that Pride-goers in the Big Apple can look forward to. 
Friday, June 24 
The annual Trans Day of Action starts Pride festivities on Friday. Located at Hudson River Park's Pier 46, and beginning at 3 p.m., this rally encourages people to fight for their transgender brothers and sisters with a rally and short march. 
Every year, hundreds gather at the official NYC Pride Rally to remember the "Gay Power" demonstration that took place one month after the June 1969 Stonewall Riots. YouTube celebrity Todrick Hall hosts this year's rally from 7 p.m. to 10 p.m., which will also feature a performance by Season 8 RuPaul's Drag Race winner Bob the Drag Queen. The event is free and open to the public, and takes place at Hudson River Park's Pier 26. VIP Passes are available as well. 
Those looking to kick off their Pride weekend with a neon-themed dance party can find their fix at Fantasy, the official kick-off party of NYC Pride. The party goes from 10 p.m. to 5 a.m. at the Diamond Horseshoe beneath Times Square. 
Saturday, June 25 
Formerly known as Rapture on the River, this year's Teaze takes place from 3 p.m. to 10 p.m. at Hudson River Park's Pier 26. This is NYC Pride's exclusive Saturday event for women celebrating Pride. Guests include DJ Samantha Ronson and Grammy Award-winning artist Mya. 
The 23rd Annual New York City Dyke March steps off at 5 p.m. on 42nd Street and 5th Avenue. The march, which is a demonstration of First Amendment rights, is open to all "self-identified" dykes regardless of group or political affiliation. 
Those looking to shout their pride from a rooftop can do so at the VIP Rooftop Party. Featuring three DJs and three levels of dancing, the event starts at 2 p.m. and tickets start at $45. 
The official Saturday night NYC Pride event, WE Party: Graffiti, takes place at NYC's famous Hammerstein Ballroom. The club experience also features a full theatrical production and tickets start at $110. 
Sunday, June 26 
New York City's official Pride March begins at noon on 36th Street and Fifth Avenue and runs down Fifth Avenue, culminating at Christopher and Greenwich streets. This year's grand marshals include transgender celebrity Jazz Jennings, Syrian refugee Subhi Nahas and HIV/AIDS awareness advocate Cecilia Chung. 
You can download a map of the route, which highlights special needs sitting areas, to help you find a spot!
Once you've finished the March, head over to the NYC Pride Dance on the Pier, which features multiplatinum recording artist Fergie and ends with a display of fireworks over the Hudson River. 
Women looking for their own rooftop party can attend Femme Fatale, the newest official Pride weekend event. The party starts at 4 p.m. and tickets start at only $25.  
A special pride edition of a monthly queer comedy showcase called A Funny Thing Happened on the Way to Pride starts at 7:30 p.m. at Greenwich Village Comedy Club. Tickets are $10 at the door. 
Concurrent with the Pride March, NYC PrideFest goes from 11 a.m. to 6 p.m. on Hudson Street between Abingdon Square and West 14th Street. PrideFest is New York City's annual pride fair, which lines Hudson Street with vendors, entertainers and activities. The event is free and RuPaul's Drag Race season 6 winner Bianca Del Rio will host. 
Read more: