Did the United Kingdom Just Elect Donald Trump President of the United States?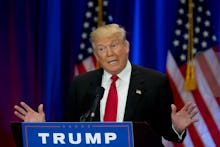 The United Kingdom delivered a seismic jolt to the global economy on Thursday, as voters there — driven by populist fury at political and economic elites — shocked the world with their unprecedented decision to abandon the European Union.
Britons' choice to leave the EU came despite dire warnings that such a move would likely rattle investors, send the pound plunging, prompt jobs to flee and shrink gross domestic product. Those warnings were outweighed by mounting popular anxiety over immigration and loss of national sovereignty — fears that right-wing populists were keen to seize upon, even as critics charged they hadn't thought through the practical implications of their hard-line position.
It's only natural, then, that political observers are asking what the so-called Brexit portends for the United States presidential election. Presumptive Republican nominee Donald Trump — a Brexit cheerleader, as it happens — has echoed the Brexiteers' nationalist populism throughout his campaign, championing a restrictionist immigration policy, a rollback of free trade agreements and a foreign policy shift away from internationalism and toward an approach he calls "America First."
While polls suggest Trump remains the underdog in his race against presumptive Democratic nominee Hillary Clinton, some experts say a Trump presidency looks more plausible than it did on Thursday morning for two overarching reasons: First, the Brexit vote underscores the deep current of populist anger convulsing much of the world. Moreover, the possible economic turmoil triggered by the vote could hurt the incumbent Democratic Party in the fall.
Mad as hell: "The common denominator here is whether it's Donald Trump, Brexit, you name it — everyone has consistently underestimated just how angry everyone is," Democratic strategist Mary Anne Marsh said.
Indeed, the vote Thursday followed polling results that suggested a lead for the "Remain" camp. Coming on the heels of stronger-than-expected showings for right-wing parties in Israel and the United Kingdom over the past year, many are wondering whether surveys aren't capturing the full extent of a brewing right-wing rebellion.
"What voters are saying everywhere is that they're not being heard," Marsh said. "What they see and hear in a Donald Trump is someone who's giving voice to all of their concerns."
Though many Democrats hope the market turmoil wrought by the Brexit vote will prompt voters to think twice before electing a president whose policies would inject even more uncertainty into the economy, Marsh said disaffected voters in economically embattled regions are unlikely to be moved by such appeals.
"Are voters going to be that rational about all of this?" she said. "It was their kids who fought all the wars we shouldn't have been in. They're the ones who lost their jobs and their homes. For them to see any negative effects in the U.S. economy in 138 days that would come close to what they've already been through, I don't think that's going to happen."
Economic fallout: The U.K. vote has already sent stocks diving in the U.S. and around the world, but economist Dean Baker of the left-leaning Center for Economic and Policy Research cautioned against reading too much into the gyrations of the market, though voters may grow increasingly frustrated if they see huge drops in their 401(k) values.
The real question, Baker said, is whether the EU responds to the vote by making peace with the U.K.'s decision — or lashes out with economic sanctions that could further destabilize the global economy. In the run-up to the vote, EU countries took a hard line on issues like trade and financial services, warning that severe punishment would follow a "Leave" vote.
While Heather Hurlburt, a former Clinton administration official now at the centrist think tank the New America Foundation, said that "the hysteria about what this means for the U.S. is a little bit overblown," noting that the vote will further strengthen the U.S. dollar, as investors dump the pound and the euro.
A stronger dollar means American goods will become more expensive overseas, likely widening the U.S. trade deficit — a frequent Trump bugaboo and an issue that may resonate in Rust Belt states like Ohio, Michigan and Pennsylvania. 
Looking forward: For her part, Clinton says the vote is another reminder of the election's stakes.
"This time of uncertainty only underscores the need for calm, steady, experienced leadership in the White House to protect Americans' pocketbooks and livelihoods, to support our friends and allies, to stand up to our adversaries and to defend our interests," she said in a statement Friday morning. "It also underscores the need for us to pull together to solve our challenges as a country, not tear each other down." 
Meanwhile, Trump — currently in Scotland to promote one of his golf courses there — a exulted in the vote, seeing it as a good omen for his chances in November.
While Marsh, the Democratic strategist, said the Brexit bolsters her view that Trump should be taken seriously as a threat, she argued that Clinton's best hope of fending off the billionaire is to persuade voters — as she sought to do in a hard-hitting speech Tuesday — that Trump is a self-interested businessman who would "stiff" working- and middle-class Americans.
"Is it the right approach? Yes. Is she saying the right things? Yes," Marsh said. "She's going to have to do this every single day right through the minute the polls close."
Despite the conventional wisdom that Clinton is headed back to 1600 Pennsylvania Ave., those poll closings could be merely the beginning of a very long night. Most swing-state polls show Clinton ahead of Trump, but by notably small margins — even amid a particularly brutal stretch for Trump's campaign. According to RealClearPolitics, Clinton leads by just 0.5 points in Pennsylvania, 2.7 points in Ohio and 3 points in Florida.
The final pre-Brexit polls showed "Remain" winning by roughly similar margins.
Read more: