Lindsay Lohan's Brexit Thoughts Are More Nuanced Than Those of Donald Trump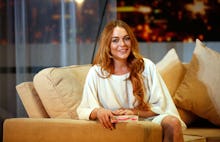 It seems like absolutely everybody and their mother has something to say about the recent referendum in Great Britain that ended in a vote in favor of leaving the European Union — the Brexit, if you will — and former-teen-starlet-turned-fascinating-human-person Lindsay Lohan is no exception.
Twenty-eight-year-old expat Lohan, who moved to London in 2012, sounded off on the Brexit vote on Twitter on Thursday in a string of since-deleted Tweets, many of which had the hashtag #REMAIN, in which she implored the British public to vote to stay in the EU and invoked the name of Margaret Thatcher. 
She began by urging the people of Sunderland to vote "Remain" and then, getting very upset when results showed that they didn't. But the Shetland Islands did, earning LiLo's love and affection.
At the very least, it's clear that Lohan felt very passionately about the Brexit and its effect on her adopted homeland. Which is more than we can say for Donald Trump, whose tweets betrayed his dire misunderstanding of the situation.
But before you call for Lohan and the British twin she met at summer camp to run for co-prime ministers, take note. By Friday, the actress seemed to mostly be over her Brexistential angst, and was back to making cute Instagram posts and cheerful Tweets. Chin up, darling.
Read more: