Harry Styles Signed a Solo Deal, and Fans Think It's the Brexit All Over Again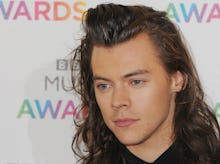 On Thursday, two of the European Union's brightest gems made moves to go it alone. 
After a tense, gridlocked vote, the United Kingdom voted in favor of the Brexit, potentially cutting ties with the European Union. And Harry Styles of One Direction signed a solo record deal with Columbia records, potentially hastening a similarly devastating One Direxit.
Rumors this day would come have been floating around for a while, as Billboard noted in its report on the deal. In December, Styles registered four new songs with American Society of Composers, Authors and Publishers and in January mogul Jay Z extended an offer to make a solo Styles "the biggest artist in the world."
The news potential puts the future of One Direction in peril.
With Zayn gone and now Harry Styles on the brink, the Directioner Twitter community is distraught. Looking over their hashtags #1DStayWithUs and #OneDirexit, it looks like this a tragedy on par with global economic collapse.
On a bright side, some saw a great opportunity to invest.
Read more: