Rape Survivor Pens Powerful Open Letter to Stanford Sexual Assault Survivor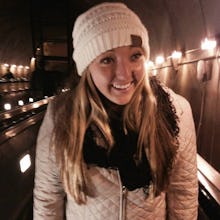 In the wake of the devastating details that emerged during the Brock Turner case, 21-year-old rape survivor Delaney Henderson penned a powerful open letter to the woman Turner was convicted of sexually assaulting.
"I am writing this to tell you that you are not alone. I understand what you are going through because I am going through it with you," Henderson wrote in the letter posted to Facebook. "I hope you realize that you've given a sense of hope to every survivor out there, who has never thought they could win."
Henderson, whose Facebook profile listed her as an ambassador for nonprofit PAVE, or Promoting Awareness, Victim Empowerment, opened up about how her own rape, at the age of 16, has shaped her life.
"I know what it feels like to have a school and the justice system completely fail you," she wrote. "I felt like my attacker, like yours, only received a slap on the wrist for raping me. There was not enough justice for you when your attacker received such a lenient sentence. They took so much from us, and justice has not been served for the pain we continue to feel every day."
In 2011, two popular boys at her Catholic high school followed Henderson into her bedroom and assaulted her. For three months, she wrote, she tried to keep it a secret. But when she did come forward, she was bullied and harassed. In the hallways, fellow students called her a "slut" and boys stalked her. She was forced to leave school to escape the torment, but, she said, the harassment followed her to college. 
"The physical pain was bad enough, but the emotional toll I endured after the assault is what truly broke me," she wrote. Henderson wrote about panic attacks she experienced and her inability to sleep in her bedroom alone.
Eventually, she continued, she was forced to testify against one of her rapists after he was charged for assaulting another teenage girl. "I know how it feels to be verbally attacked and to have your reputation trashed while trying to defend yourself," she said. "I also know how it feels to testify on the stand about a night you barely remember, in front of twelve complete strangers there to judge your testimony."
At the hearing for Turner's sentencing, his victim delivered a poignant statement about her experience. In it, she highlighted that throughout the process, Turner received lenience while she was met only with shame.
But Henderson assured the woman: "You've already helped so many lives by using your powerful voice and standing as that beacon of light for all of us in the darkness."
Read more: