James Corden and Anna Kendrick Reunited for This Adorable Love Song Mash-Up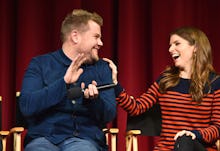 Late Late Show host James Corden reunited with his former Into the Woods costar Anna Kendrick (they played a married couple, remember?) on his show this week — and the two performed an incredible mini musical. 
In a number called "Soundtrack to a Love Story," they described an entire relationship via love song mashup — and it was adorable and delightful, of course.
They started with a first date.
And a first night together.
Thing got serious quickly.
But there were some ... issues.
Luckily (spoiler alert) it all worked out in the end.
Watch the entire amazing performance here:
Read more: