Did Burger King Rip Off Those Viral "Mac n' Cheetos" From a Popular Food Blogger?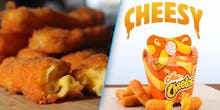 Burger King announced Wednesday that it would be adding Mac n' Cheetos to its menu. 
The new item is exactly what it sounds like — a whopper of a stunt food that makes Taco Bell's Doritos-powder coated taco shells look like child's play. The Mac n' Cheetos consists of deep-fried macaroni and cheese that is "encrusted in a Cheetos-flavored shell," wrote the Washington Post. 
While the move appears to be some serious chain restaurant ingenuity, it also looks terribly familiar. Did Burger King straight up lift its idea from popular food blogger The Vulgar Chef?
In September 2015, the Vulgar Chef posted a recipe for "Cheetos Crusted Mac n' Cheese Fries." The recipe is nearly identical: sticks of deep-fried macaroni and cheese that is coated in a crushed Cheetos shell. 
While mixing macaroni and Cheetos isn't a fully new concept, turning the combination into mozzarella stick-like logs appears to be the Vulgar Chef's original idea. And with more than 140,000 Instagram followers and close to 80,000 page likes on Facebook, the Vulgar Chef isn't exactly an unknown blogger.
The Vulgar Chef has been quite vocal across his social media pages about the similarity between his creation and Burger King's new dish (he has yet to respond to Mic's request for comment).
"Those Mac 'n cheese Cheetos look good. Never seen anything like that before...," he tweeted at Burger King with a link to a YouTube video of his recipe. 
The Vulgar Chef also took to Instagram, posting a video of dish with the comment: "The ORIGINAL Cheetos Mac the fuck cheese fries. Thanks to everyone who DM me today to express your anger towards BK for such fuckery." He also expressed a similar sentiment on his Facebook page.
The blogger said in an email that he would like some credit for his creation:
"I'm not sitting here trying to say I'm some food genius because I covered sticks of Mac n cheese with Cheetos and fried them. To be honest when I researched before creating them, I was surprised I didn't stumble across something similar. I couldn't even find a recipe that called for both mac 'n cheese & Cheetos.
There is some viable credibility to The Vulgar Chef's claims. Burger King has copied those with a bit of internet fame in the past. In 2014, comedian Billy Eichner accused the chain of ripping off his popular Funny or Die web series (and now television show) Billy on the Street for a commercial, ABC News reported. 
At the time Eichner tweeted,  "Hey, Burger King, thanks for stealing my act for ur new commercial!! Except it's not as funny & everyone knows u stole it. GET YOUR OWN IDEAS."
Burger King has not responded to Mic's request for comment. If they are guilty, however, we're hoping they'll fess up and wipe their hands clean of this cheesy disaster. 
June 27, 2016, 10:24 a.m.: This story has been updated.
Read more: