Obama Administration to Award 12,000 Prison Inmates Pell Grants to Use on College Tuition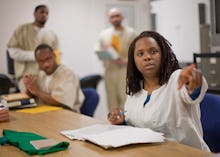 As many as 12,000 prison inmates will receive the gift of a second chance next month, in the form of Pell grants to be used on college tuition.
The Obama Administration's Second Chance Pell Pilot program, worth a total of $30 million, will be distributed in installments of $5,815 per person to inmates at 141 state and federal correctional facilities.
Once they are determined eligible to receive the grants, approved inmates five years or less away from release will be able to use them to work towards associate or bachelor's degrees at a pre-approved list of 67 colleges and universities while incarcerated.
Inmates will be able to use the money to pay the costly fees, tuition and book prices that come attached to the price tag of a college education.
The Pell grant pilot program reverses a mandate in President Bill Clinton's 1994 crime bill that prohibited inmates from receiving financial aid resources such as Pell grants. Critics of that bill argue that educating inmates helps to reduce the rate of recidivism.
Though that 1994 ban remains in place today, Obama administration officials have pushed forward with the creation of pilot programs like Second Chance, which constitutes less than 0.1% of the Pell program's overall $30 billion budget for non-incarcerated recipients.
"We all agree that crime must have consequences, but the men and women who have done their time and paid their debt deserve the opportunity to break with the past and forge new lives in their homes, workplaces ad communities," Education Secretary John B. King Jr. said on a call with reporters on Thursday, according to the Washington Post. 
"This belief in second chances is fundamental to who we are as Americans."
Read more: