The 'Orange Is the New Black' Season 4 Finale Left Viewers Stunned — What Happens Next?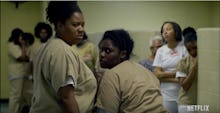 (Editor's note: Spoilers for Orange Is the New Black season four ahead). 
While Daya (Dascha Polanco) didn't have much to do in the fourth season of Netflix's Orange Is the New Black, all the attention has been thrust toward her following a chaotic season finale. In the aftermath of Poussey's (Samira Wiley) tragic death, the inmates were in the midst of staging a riot from their mistreatment by the new, oppressive prison guards. 
Through a horrible attempt to stop the riots, the most sadistic guard of the bunch, Humphrey (Michael Torpey), tries to remove a gun from his holster, (Humphrey manipulates the other guards to let him bring it into the prison) but it's knocked out of his hand and slides across the floor. Daya is there to pick it up, and immediately aims it at him. But we're left there, and for the next year fans will have to wonder whether Daya pulled the trigger — or perhaps, if another inmate will take the gun and shoot him instead. 
What is clear is that, while she wasn't on-screen much, the fourth season was about building up to this moment for Daya. Though her relationship with her mother Diaz (Elizabeth Rodriguez) is more than a bit contentious, she's always been a safety net for Daya from her first day at Litchfield. 
Midway through the season, however, Diaz is granted an early release and returns to New York City. As Daya notes, the first day without her mother feels like her first real day at Litchfield. Diaz, concerned for Daya as well, asks Mendoza (Selenis Leyva) to look after her, and help keep her out of trouble. 
Clearly, then, Orange Is the New Black posits a twisted irony for Daya in the finale. Shooting Humphrey would all but assure a life behind bars for the character, and even if she doesn't, the fact that she pointed the gun at him in the first place could justify further punishment from the tyrannical prison guard captain Piscatella (Brad William Henke). That we also see Diaz watching the press conference on Poussey's death, suggests some involvement next season as well.  
And while Daya's exact fate is unknown — sadly we won't have an answer until season five, presumably in June 2017 — the inmates' riot will have an irreversible effect on the prison. Poussey's death was arguably the darkest moment in the series, and there's no turning back from the aftermath moving forward. 
Read more: