7 Things You Need to Know About 'The Shallows' Star Blake Lively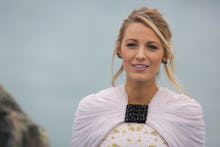 With a blockbuster movie hitting theaters on Friday, The Shallows star Blake Lively is about to have a big summer. For anyone who's ever wanted to know a little more about the 28-year-old star, here's a little bit.
1. Her breakout film role was The Sisterhood of the Traveling Pants.
Lively's first major film role was playing Bridget Vreeland in The Sisterhood of the Traveling Pants, the film adaptation of the young adult novel of the same name. She starred alongside fellow teen stars Alexis Bledel, Amber Tamblyn and America Ferrera. In 2008, the motley crew reconvened for TSOTTP 2 — and Lively recently told SiriusXM that "there is a strong chance that their might be a third" which, it must be said, is a lot for a pair of pants to handle.
2. She was born and raised in Los Angeles.
Lively has been living that Hollywood life for years — as many pointed out after Lively captioned a photo of herself on Instagram "L.A. face with an Oakland booty," (come on, Blake) she's actually from Tarzana, not Oakland. She's a Valley girl, folks.
3. Lively was an overachiever in high school.
As a high school student at Burbank High, Lively balanced acting with AP classes, cheerleading, show choir and serving as class president. 
4. She dated her Gossip Girl costar.
From 2007 to 2012, Lively was better known as Serena van der Woodson in the CW teen drama series Gossip Girl. While she was on the show, she dated costar Penn Badgley off and onscreen (where Badgley played Dan Humphrey) for three years, until they split in 2010.
5. She got to go to a White House state dinner.
Because of her very Canadian husband Ryan Reynolds (the two married in 2012) Lively snagged an invite to a White House state dinner held in honor of Canadian Prime Minister Justin Trudeau in March.
6. She loves having babies.
Lively and Reynolds already have one child together, a daughter, James, born in 2014, and sort of confirmed this week that she's pregnant with a second. In an interview earlier this month on NBC's Today, Lively said "I'm one of five kids. My husband is one of four, so we're officially breeders ... You can go on our website and we will give you some of our children."
7. She's a great cook.
Lively has vocally proclaimed her love for food and cooking, and once took classes at Le Cordon Bleu in Paris. She's even done a cooking segment for Vogue — check it out here if you'd like to make a sausage and brie puff pastry and be like Blake.
Read more: