Demi Lovato Returns to Social Media and Calls Out People's Celebrity Obsessions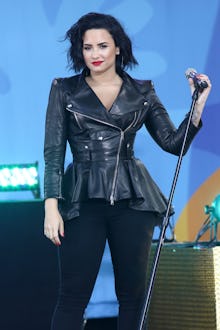 After her short 24-hour hiatus from social media, Demi Lovato has returned armed with a few words against what she said are people's frivolous obsessions with celebrities and their ignorance of more serious issues. 
After internet trolls caused Lovato to shutter her social media accounts, Lovato returned by saying, "Fuck this.. I'm back bitches. And I'm coming back more honest than ever." 
So she sought out to lay down the truth. "The world is weird," Lovato tweeted. "I bet our country knows more about celebrities than they know about what's happening over seas or global warming."
She continued to point out a hypocrisy in the way people hate on paparazzi and tabloids, but are still interested in celebrity gossip. 
To prove her point, she posted a poll, testing if people can name someone on the FBI's Top Ten fugitive list, or all of Justin Bieber's exes. As of Friday at 12 p.m. EST, about 53% of the over 100,000 voters said they knew all of the Bieber's former flames — 25% said they didn't know what the list was. 
But it's not entirely our fault. "Has society fed into it or is this just easy business with everyone from blogs to magazines trying to cash in?" she asked.
Food for thought, courtesy of Demi Lovato. 
Read more: