Liam Hemsworth: 9 Things You Need to Know About the 'Independence Day: Resurgence' Star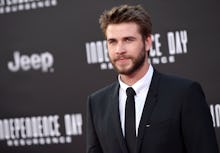 Before he was the sizzling slice of man meat melting our faces off as Gale in the Hunger Games trilogy, Liam Hemsworth was just a brooding hunk in a wet suit sitting on a beach somewhere in Australia.
Here's the scoop on Hemsworth, AKA your 13-year-old cousin's iPhone background, ahead of his starring role in the upcoming blockbuster Independence Day: Resurgence (because, be honest — you're not dropping $20 on movie tickets this summer to see Jeff Goldblum).
1. He was born in Australia
Hemsworth was born in Australia in 1990 to parents Craig and Leonie Hemsworth. At the age of 13, his family relocated to Phillip Island, a vacation destination off the Australian coast. 
2. He cut his acting teeth on an Australian soap opera
His first big acting break came when he was cast as Josh Taylor, a "paraplegic ladies['] man" on the Australian soap opera "Neighbours."
The same show was also a springboard to fame for many other well-known celebs, including Russell Crowe, Margot Robbie and Natalie Imbruglia, according to Buzzfeed.
3. He dated and was engaged to an unknown singer named Miley Cyrus
The couple met while filming The Last Song in 2010, and began dating shortly afterwards. By 2012 they were engaged, and by 2013 they were broken up — although rumors swirled in early 2016 that they had rekindled their romance. 
Though neither party has publicly confirmed whether or not the relationship is back on, both have been hinting via social media and interviews that they're still very much in love.
4. He has two brothers, Chris and Luke, who are also incredibly hot 
All three of the Hemsworth boys are in showbiz, and it was eldest brother Luke, 35, who inspired youngest brother Liam to break in. Chris, the middle child, is best known for helming Marvel's Thor franchise, in which he plays a talking muscle with superpowers who hooks up with Natalie Portman.
Also, sometimes all three of them prank each other on Instagram, which is cute.
5. He starred in a music video
6. The Hunger Games — ever heard of 'em?
The vehicle that truly rocketed Hemsworth to stardom was a little old franchise known as The Hunger Games, the blockbuster film adaptations of Suzanne Collins' book series of the same name. 
In the films, he played Gale Hawthorne, the firebrand best friend and sidekick to Jennifer Lawrence's leading lady, Katniss Everdeen.
Despite a mega-successful Hollywood career, Hemsworth seems like he never forgot where he came from, and devotes time to giving back to Australia's underprivileged community. 
As a proud ambassador to the Foundation, he helps children "... reclaim the childhoods that have been stolen from them by the trauma of abuse, family violence and neglect."
8. He loves surfing
"I have always loved surfing," Hemsworth told VMan magazine in 2011, according to People. "When I was at school that was pretty much all that mattered in my life. Most of my friends surfed so we would go before school, after school, literally whenever we could."
9. You can see him on the big screen this summer in Independence Day: Resurgence
Set two decades after the original Independence Day alien invasion, the sequel stars Hemsworth as Jake Morrison, a "hotshot pilot" dead set on saving Earth from would-be alien colonizers.
The film is in theaters nationwide starting today.
Read more: