This Musician Explains How It Feels To Be Gay And Muslim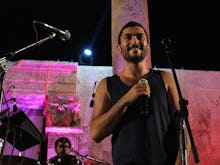 The devastating attacks at gay nightclub Pulse in Orlando, Florida, have put a lot of gay Muslims in the unbearable position of being stuck between two worlds. 
Hamed Sinno, the openly gay frontman for popular Lebanese alternative band Mashrou'Leila, perfectly captured this struggle during a concert in Washington, D.C., the day after the shooting.
"There are a bunch of us who are queer who feel assaulted by that attack who can't mourn because we're also from Muslim families," he said. "This is what it looks like to be called both a terrorist and a faggot."
LGBT Muslims often come from immigrant families where homosexuality is looked down upon. 
A majority of Muslims in the U.S. are immigrants — 63%, according to a 2011 Pew Research Center study. Many hail from the Middle East and North Africa, where homosexuality is stigmatized and criminalized. This has presented a challenge for LGBT Muslims like Sinno, who said closeted Muslims can't openly grieve with conservative family members who may not approve of homosexuality. 
The Arab musician says he's frightened by the anti-Arab and anti-Muslim sentiment in the U.S.
While Sinno insists that neither the struggle of dealing with xenophobia or homophobia is more important than the other, he personally feels a lot of prejudice directed at Muslim and Arabs than the LGBT community in the Middle East
In an interview with CBS, Sinno highlights how xenophobia has him afraid of walking along the streets in America:
"Honestly, I get kind of scared walking down the street because I am very visibly Arab. It's not like one of those things where I pass as being anything else, I just look straight-up Arab."
"And I feel like the amount of aggression directed at the Arab community and the Muslim community at this point is much more frightening actually than the kind of aggression that is addressed towards the LGBT community in Lebanon," Sinno added.
Read More: