#FatAssesBreakTheInternet Is Encouraging People to Embrace Their Curves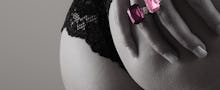 Oh my God, Becky, look at that hashtag.
The latest trending topic on Twitter is one that encourages users to share pictures of their butts — especially if they're big.
It is called #FatAssesBreakTheInternet, presumably a nod to Kim Kardashian West's infamous "break the internet" magazine cover. The body-positive hashtag has already inspired a number of Twitter users to flaunt their curves and strike suggestive ass-poses.
Some people are even getting a little (sorry) *cheeky* (sorry) with their contributions!
It appears that the hashtag was first proposed on June 11 by @_ACE_BOOGIE200, but didn't quite take off until early Friday morning when @HeyItSyri included it in a tweet, along with a bootylicious video.
Just a little dollop of body positivity to start your weekend!
Read more: