World's Ugliest Dog Competition 2016: Photos You Have to See to Believe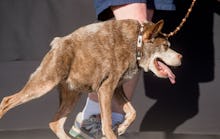 On Friday, dogs who don't conform to western society's toxic beauty standards will be celebrated at the World's Ugliest Dog Contest. The competition takes place at the Sonoma-Marin Fairgrounds in Petaluma, California, and the winner will walk away with $1,500 and a trophy. 
"We're proud to celebrate all dogs and pets by showing that no matter their imperfections, they are adoptable, lovable and a great add to any family," Erin Post, who is the CEO of the Sonoma-Marin Fair, said on the website. 
Last year's winner was named Quasi Modo, and she was born with  short spine syndrome, which means she can't turn her head because parts of her body has fused together. "Working at the shelter, I could adopt all the beautiful purebreds if I wanted to; but Quasi shows that you don't need to be the most perfect-looking animal to be a loving pet," the owner said about the competition, according to the Guardian. 
Check out the furry contestants below:
Katana
Katana is a 7-year-old miniature wire-haired Dachshund who resides in Santa Rosa, California. Her favorite hobby is a good one: eating anything.
Moochie
Moochie is a chihuahua mix who is deaf and blind and has a seeing eye cat to help him out. 
Zoomer
Zoomer was adopted right before he was about to be put down. Now he's living in California. 
Icky
Icky has starred in commercials and is a philanthropist. He uses his fame to fundraise for charities, according to his biography.
Rue
Rescue-dog Rue has only one ear canal and just a few teeth. He rocks a stylish black bullet. 
Monkey
This outgoing 3-year-old Chinese crested/Brussels Griffon mix is competing for the third time.
SweePee Rambo
SweePee Rambo accompanied her owner at work for 15 years, but now she's losing her vision.
Grovie
This 13-year-old Chinese pug lives in Santa Rosa and has participated in the contest six times. 
Rooby Roux
Rooby Roux needs surgery for his glaucoma, but that hasn't stopped him from competing. 
Himisaboo
This dog is known for having hair similar to that of presumptive GOP candidate Donald Trump. 
Scamp
Scamp was rescued from Los Angeles and likes to listen to Bob Marley. 
Josie
Josie is a 6-year-old Chinese Crested mix who was saved from a puppy mill. 
Precious
Precious is an 8-year-old Chihuahua who has vision problems. Precious does volunteer work by appearing at fundraising events to help send kids to camp.
Rascal Deux
Rascal Deux was was born with no teeth, which has helped him land an appearance on Jay Leno's NBC Tonight Show in 2002.
Roast Beef 
Roast Beef was rescued from a hoarder, which means the current owners are unaware of his real age. 
Zsa-Zsa
Zsa-Zsa is an English Bulldog who was saved from a puppy mill. 
Read more: