This Day in History: The Death of the King of Pop, Michael Jackson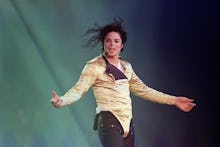 As with any national tragedy, most people remember where they were, what they were doing and who they were with on June 25, 2009 — the day Michael Jackson, the King of Pop, died.
University of California at Los Angeles hospital officials pronounced Jackson dead at 2:26 p.m. local time. Jackson had been rushed to the hospital when he went into what appeared to be cardiac arrest at his home in Holmby Hills. 
The immense grief the public felt after losing the beloved music icon was soon mixed with confusion, doubt and anger as the circumstances surrounding Jackson's death began to arouse suspicion: Just a couple months later, an LA coroner ruled his cause of death was "acute propofol intoxication"; the coroner deemed it a homicide.
Most of these misgivings were directed toward Jackson's personal doctor, cardiologist Conrad Murray, who ultimately served two years of a four-year sentence for negligence that contributed to his death, according to CNN.
When the case went to trial in 2011, Conrad was found guilty of involuntary manslaughter for delivering what proved to be a lethal dose of an anesthetic Jackson had requested as a sleep aid. 
On the seventh anniversary of his death, it's an understatement to say fans continue to feel the impact of the loss and remember the indelible touch Jackson left on music. 
Jackson entered the public eye in 1964 at age 6, when he joined what would become the Jackson 5 (but was at the time called the Jackson Brothers). In the '70s and '80s, Jackson saw unparalleled success in his solo career, securing his legacy with hits like "Thriller," "Billie Jean," "Black or White," "Dirty Diana" and "The Way You Make Me Feel."
These tracks showcased Jackson's talent as a singer, performer and tastemaker. Jackson popularized the moonwalk, among other dance moves, which spread through the dance world as well as the music world. And the "Thriller" line dance remains a DJ favorite for rousing guests to get on the dance floor at sweet 16s and weddings. 
Jackson's artistry and influence, though, was most palpable in his quieter moments, with songs like 1988's "Man in the Mirror," a gospel-like track that echoes Gandhi's vast call to "be the change you wish to see in the world." Even much later in his career, his talent still resonated on tracks like 2004's "We Are the World," in which Jackson sang of his hopes for the world to "stand together as one."
In these moments, Jackson paved the way for a slew of artists who mimic him, are influenced by him or came to love music because of him. But in some ways, Jackson's death marked the end of something irrecoverable.
On June 26, 2009, the day after the singer's death, writer Hua Hsu summed up Jackson simply-but-eloquently in the Atlantic: "Jackson was one of the last figures of our time who could, in his very presence, describe the possibilities of pop."
"Jackson was one of the last figures of our time who could, in his very presence, describe the possibilities of pop."
Memories of Jackson, however, will always be tinged with a certain darkness. 
Jackson was acquitted in 2005 on charges of child molestation and giving intoxicants to a minor. Among the allegations were claims that he had shared a bed with a preteen boy over 460 days during a two-year period, that he had pleaded with actress June Chandler to let him sleep with her son and that he had child pornography in his Neverland Ranch.
Speculation over whether Jackson had committed these offenses circulated anew this week when authorities released evidence that had been used in the trial: footage from a 2003 raid the Santa Barbara County District Attorney's Office and Sheriff's Department had conducted at the ranch.
The video reveals rooms filled with children's toys and games, photos of child actors like Macaulay Culkin and child pornography.
Shocked fans, who perhaps had wanted to leave the dubious parts of Jackson's history untouched, expressed their mixed feelings on social media, with some pointing to the futility of rehashing the controversy and others staunchly maintaining his innocence, including his family and the executors of his estate.
"Michael remains just as innocent of these smears in death as he was in life even though he isn't here to defend himself," a statement released by Jackson's estate Tuesday reads. "Enough is enough."
It's likely the American public will always have to live in this space of discomfort, some perhaps acknowledging Jackson's guilt, others choosing to ignore his wrongdoings in favor of dogged idolatry and most accepting Jackson as a problematic but adored figure. 
As Hsu wrote in his tribute to the late singer, the story we tell of the King of Pop continues to be one that says more about us than it does about Jackson himself. 
"His distance made him an enigma: he was post-racial before anyone knew it; he was a vain, tragic hero; he suffered for our adoration," wrote Hsu. "Or so we like to tell ourselves."
Read more: