These '90s Television Shows from Your Childhood Will Melt Your Icy Grown-Up Heart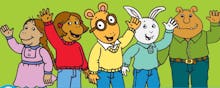 Nostalgia's a funny thing. That ache for something bygone — as Don Draper famously put it, the "twinge in your heart far more powerful than memory alone" — can overwhelm you with emotion. It can make you remember songs or foods, even people, more fondly than they deserve, and transport you back in time.
TV shows have a unique power to take you back, especially now when so much of what we grew up with is available to stream. It's not just the memory of the shows themselves but the way we used to watch them, the way we shared the experience with siblings, parents and friends. This is particularly true with the shows made for those of us who grew up in the '90s, when our TV universe was Nick Jr., Cartoon Network, Disney Channel and PBS, and the only way to access it was from a couch in the family room or a bean bag in the basement.
What the Hold Steady said about certain songs holds true for certain shows — they get scratched into our souls. And what a relief when they turn out to be every bit as awesome now as they were when we used to love them.
We talked with family, friends and super-fans about our childhood favorites from the '90s that take us back and still hold up now.
Doug
Doug, Jim Jinkins's semi-autobiographical coming-of-age cartoon, set the template for so many of our favorite '90s animated shows. Along with Rugrats and Ren and Stimpy, it debuted in 1991 as Nickelodeon's first foray into original animated programming. Inspired by drawings from Jinkins's childhood journal, the show followed 11-year-old Doug Funnie as he adjusts to life at a new school in a new town showing the highs and lows of tweendom with honesty.
"I didn't want to show all of the ambiguity of the adult world to kids," Jinkins told Huffington Post in 2004. "I wanted to show kids a world where everyone took honesty seriously."
Who wouldn't want to go back to that simpler time?
Hey Arnold!
Who among us does not love that football-shaped head? Hey Arnold! first aired on Nickelodeon in 1996, charming kids and parents alike with weirdly high-minded and hilarious tales of 9-year-old Arnold, his quirky grandparents and characters like Helga G. Pataki, who tortures Arnold to hide the torch she's carrying for him. Craig Bartlett created the show while he was still working for Pee-wee's Playhouse, another stealth adult show disguised as a kids program.
Hey Arnold!'s sly sophistication is what inspired Adam Samaha and Cory Vaughan to create the fan podcast Hey Arnold Hey!, in which they dissect each episode.
"We unpack the themes [of the episode]," Samaha said in a phone interview. "They try to tackle pretty intense issues, social issues and some subliminal political issues."
That's what gives it staying power, Samaha said. "If you want to give the show the time of day as an adult, it feels just like a very human show, and you can appreciate it."
Dexter's Laboratory  
Cartoon Network's first original show, Dexter's Laboratory followed the adventures of a scientist boy genius and his annoying older sister, who somehow manages to constantly out-smart him. Genndy Tartakovsky created the show based on one of his student films while at California Institute of the Arts, and the quality of its classically stylized animation showed the early promise of the animator who went on to create Samurai Jack and Star Wars: Clone Wars and direct the Hotel Transylvania movies. And with writers like Family Guy creator Seth MacFarlane and The Fairly OddParents creator Butch Hartman, the humor was the perfect mix of weird and smart.
Caitlin Verdu, 23, still loves all of Dexter's "cool gadgets and schemes" and the innocence of watching "a kid trying to survive his childhood."
"He's super smart," Verdu said in an email, "but he applies that to very small scale problems, like cramming for his French test."  
Pokémon
For any '90s child, Pokémon was much more than a TV show. It was an immersive world for legions of trading card collectors, Game Boy players and fans of the anime show that brought it all to life.
Steve Black Jr., host and creator of the Pokémon podcast, It's Super Effective, started his show six years ago to discuss and document everything still happening in the Pokémon universe. For Black, the show continues to be a way of going deeper into that universe.
"There's a lot of imagination going on when you're playing the game" Black said in a phone interview. "To then see that on screen and see the Pokémon that are your favorites move and act out, it's almost like getting more history or lore about the Pokémon."
He's far from alone. With a fan base of 23-35 year olds, It's Super Effective is one of the top 10 gaming podcasts on iTunes.
Arthur
No one in elementary school made being smart seem cooler than Arthur, the four-eyed aardvark. Arthur could actually inspire you to go to the library and check out a book! He taught many of us '90s kids how to survive teachers, bullies and annoying little sisters with dignity, and his fellow anthropomorphic animal friends embodied the archetypes we all knew from school.
"I liked watching Arthur because he was kind of a nerd, and I was kind of a nerd," said Jill Found, 25, in an email. "His struggle with being embarrassed about his glasses really resonated with me as a little kid."
Watching the show now might conjure up some old insecurities, but it also reminds us how nice it was to see them shared by a group of sympathetic aardvarks, rabbits, bears and orangutans.