2 Ingredients Are All You Need to Make Pancakes This Weekend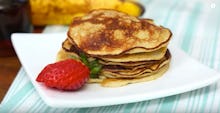 Prepare yourself for the easiest pancake recipe in the history of pancake recipes. 
It's bananas. Literally. One banana and two eggs are all you need to create a delicious homemade banana pancakes. Cue up Jack Johnson and get snuggly. 
Health nuts, check out these stellar nutrition stats: The flapjacks are paleo, gluten-free, sugar-free, and an excellent source of potassium, protein and healthy fats. (For the full nutrition stats, scroll to the end.)
They don't taste better than real pancakes, but they'll do in a pinch. 
The pancakes are a little denser than your average short stack, and they have an eggy flavor that's somewhat reminiscent of French toast. But they're still the perfect vehicle for syrup, berries, nut butter, or heck, whipped cream and berries if you're having that sort of morning. 
Here's the foolproof recipe. 
How to Make 2-Ingredient Pancakes
Adapted from The Domestic Geek. 
Time: 5 minutes
Serves: One hungry person
Ingredients: 
1 banana
Preparation: 
Step 1: Break two eggs into a blender. Add one banana. Blend until thoroughly mixed. 
Step 2: Heat a frying pan over medium-high heat. Spread a bit of coconut oil, or butter, on the pan to prevent pancake from sticking. 
Step 3: Pour batter onto pan to create silver dollar-sized pancakes. They are a bit flimsier and denser than normal pancakes so this size is optimal for easy flipping.
Step 4: Flip them to cook on the other side once they are a nice golden brown color. 
Step 5: Remove from heat and top with whatever strikes your fancy. We don't judge.
Want to know how these pancakes stack up nutritionally? Here you go. 
Read more: