Hacked Slack Discussion Reveals Teachers Saying Horrible Things About Their Students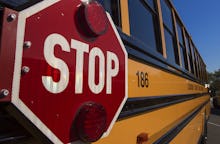 Three teachers have resigned from Blackstone Valley Prep — a charter school in Rhode Island — after their Slack chats were hacked to uncover intense, rude gossip about their students. 
These private conversations held on the group chat app Slack between teachers were made public to the "entire school community," according to the Providence Journal.
A teacher's email account had reportedly been hacked and sent a mass email to students, faculty and staff, the Journal reported. It included a link to a Google Doc with the private Slack messages. And they are bad. 
"Man I wish we could hit them," one teacher wrote. 
"Here's how Hudson spelled Ta-Nehisi Coates: Tonahese quotes," a teacher wrote.
"f***ing idiot," another responded.
"I CANNOT WITH HER I HOPE HER STUPID SON FAILS ALL HIS CLASSES." 
Teachers also refer to the students as "idiots" and "toxic", the Journal reported, and one called a student a "dumb ass." 
"I want to be crystal clear, many of the comments written are deeply disturbing and offensive," Executive Director of the school Jeremy Chiappetta wrote in an open letter online. "As the founding school leader, executive director of the organization, and parent of three scholars in the program, I am deeply saddened and disappointed. Parents put their trust in teachers and the school, and that trust has been violated."
It's not just gossiping teachers that have gotten the school in trouble. The charter school has been accused of contributing to the "yawning achievement gap between white and minority students in Rhode Island," the Journal stated in an editorial. 
Read more: